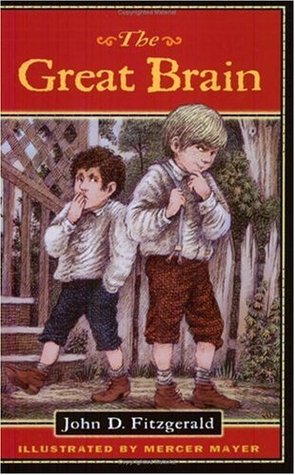 In the first book of a classic children's series, narrator J.D. tells the story of the year his older brother Tom (T.D.) - the self-proclaimed "great brain" and known prankster and con artist - reforms himself. Through the eyes of his younger brother, Tom is revealed to be charming, mischievous, and conniving, but deep down a caring and devoted friend.
This semi-autobiographical novel of the author's Utah childhood features one of the best narrators in children's literature. J.D.'s is the perfect deadpan voice to report matter-of-factly on his brother's exploits. At times, the author brilliantly uses J.D.'s naivete as an opportunity to reveal information to the reader that the narrator himself does not understand. (J.D. often does not realize when he is about to be hoodwinked, while the reader chuckles along with Tom, marveling at his audacity and wit.)
Historical details of the time period - the end of the nineteenth century - really enrich the story, and at times, add to the humor. Discussion of the family's new water closet opens the action, and its construction provides the story's first great swindle. This book also gives contemporary kids a great opportunity to think about ways to amuse themselves without many of the bells, whistles, and gadgets now heavily relied upon as sources of entertainment.
Like the Henry Reed series, this is another great book about boys being boys and brothers being brothers. Additional read-alikes include
Knucklehead
by Jon Scieszka,
Cheaper by the Dozen
, and the Alvin Ho series.
The Great Brain
would also be a great book to recommend to upper elementary readers who liked Horrible Harry as first and second graders.