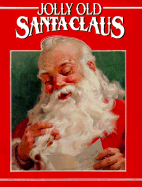 Though it has probably been twenty years, I still think of
Jolly Old Santa Claus
as a "new" addition to my family's Christmas Eve repertoire. We always read
Twas the Night Before Christmas
after church on Christmas Eve from the time I was about two years old, but we didn't discover Jolly Old Santa Claus until I was in mid-to-late elementary school, so though it became a tradition, it wasn't part of our original tradition.
I think we took to it so strongly, though, for two reasons - George Hinke's oil paintings, and the story's exploration of the inner workings of the North Pole.
The story is attributed to two different people on the editions in print today - Sparkie is listed as the author on the 1996 hardcover, and Maryjane Hooper Tonn is the author of the 2010 version being sold by Ideals Books. Neither of these is the edition I read, however. My copy was a paperback that looked like the picture above, and it was written by Alice Leedy Mason and published in 1984. I don't think this book contains the original text, but because it's the story I know, I tend to think of it as superior.
In the story I remember, Santa, Mrs. Claus, and the elves are busy preparing for Santa's Christmas Eve delivery. The elves - called "brownies" in this book - have personalities similar to those of Snow White's seven dwarves, including a Doc-like Grandpa and a lazy brownie who refuses to do any work. Also featured in the book are the naughty and nice list, complete with tons of names written on it, Santa's sleigh, and all his reindeer (minus Rudolph). The tone of the story is that of someone giving a curious child a tour of Santa's workshop, and Santa himself seems to be lurking outside of every page, giving the reader the anticipatory sense that he or she might run into him at any moment. The illustrations are so vivid and life-like, that they make the legend of Santa Claus seem completely real and plausible, and would make any child think she heard sleigh bells as she drifted off to sleep. Reading the story is only half the fun - we used to spend most of our time with the book trying to decide which brownie was which and creating our own theories about what was going on in the workshop that wasn't written on the page.
The great thing about Santa Claus stories is that they never really go out of date. This story was first published in its original version in 1961, and still exists in some form today. I haven't read it in a number of years now, but it remains one of my fondest holiday memories.